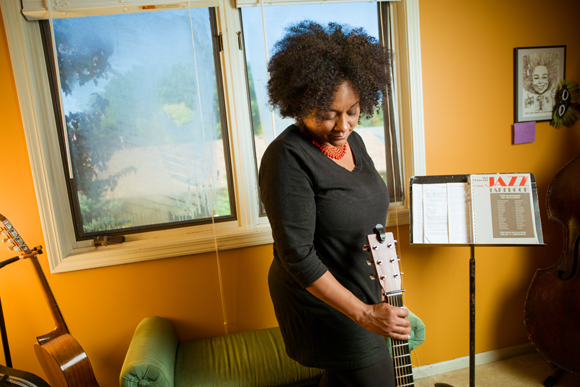 It's November, the month of thanksgiving, but Karisa Wilson says she counts her blessings all year 'round.
"I'm extremely fortunate to be able to do this for a living," she says. And by 'this,' she means make her living as a musician, both teaching music and performing as a singer-songwriter in Grand Rapids and beyond.Have tea with Wilson (first name pronounced "ka-ree-sa," please and thank you) in her home, and you get the sense that she brings an attitude of gratitude – plus a lot of good, old-fashioned hard work – to her musical endeavors as well as her personal life. In person, she's warm, generous, and projects a calm assurance. She offers me multiple varieties of tea as the kettle sings, and we settle down in her living room chairs as her son, John Paul, plays happily at our feet. Before I leave, she shows me the spare room where much of her practice takes place. It's small and modest, filled with all the accoutrements of a musician (guitars, keyboard, some art on the cheerful yellow walls), and it has a view of the back yard.
It's safe to say this isn't necessarily the life Wilson has always imagined. The daughter of missionaries, Wilson grew up in West Michigan, graduated from Calvin College, and taught Spanish and special education for four years before going all in as a musician.
She backed into performing via her cousin's band. Though she had studied the violin classically since the age of ten, it was later in life that Wilson realized she had a wider skill set. "I had dabbled with guitar in college, started writing songs, and about a year after that I was out playing for money," she says.
Since then, Wilson has earned a dedicated following both locally and nationally. Along the way, she's had a few defining moments, including working on her first album, buying a PA system, and winning a Jammie Award in 2008. "It kind of blew my mind because I didn't think I was on that level," she says of the award. "I know it's just a local thing but for me it was having that recognition that made me feel like I was doing a good job."
It's not all awards and on-stage glory, though — and Wilson is the first to tell you that.
"The umbrella is musician," Wilson says, of her day-to-day work. "But underneath that, it changes constantly. I actually have to practice these instruments and try to find time to write. I play shows but I also do other stuff like weddings, weird things like recording for other people, playing violin or doing backup vocals on someone else's project."
And there's more behind-the-scenes stuff, too. "I spend a lot of time doing what you're doing right now (typing and) scheduling things. There's a lot of clerical stuff. I do all my own promotion. I don't have an agent or manager, checking my email and getting back to people."
Wilson gives this definition of self-employed: "For anything to get done, I have to do it." So one of the biggest challenges, as she's grown in popularity, has been learning how to say no, which is a skill the gorgeous six-month-old boy playing happily at my feet had something to do with.
"That's one thing that I love about having a child," she says. "Part of it is he's an amazing child who I get to watch grow up, but what I love, too, is my priorities are very clear to me."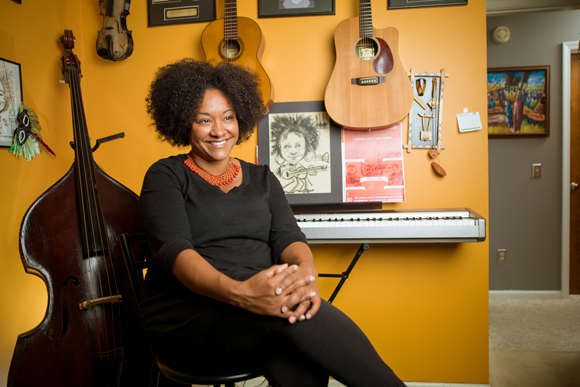 These days, those priorities are largely family, music, and teaching. Wilson teaches music about 20 hours per week at Triumph Music Academy, which she says allows her to be just a musician, and not a musician who works at "X business" during the day. It's a combination that works well for her, along with her husband's flexible schedule (his family owns The Bitter End coffee shop on the West Side, and Wilson pitches in on the business side there as well).
So does she listen to music in her home for inspiration? Surprisingly, no. "I don't really listen to music," she admits. "I don't have this vast music library or a vast knowledge. I just really love what I love. I don't seek out listening to something specific. I might realize after the fact that some songs I wrote remind me of someone."
Wilson's style is hard to pin down, and that's okay with her. "If I had aspirations of being a national radio artist, I would have to pick a direction and stick with it. But for what I'm doing I think it's good. It's my style and it always sounds like my style," she says, though when pressed, she calls herself "kind of an indie singer-songwriter," a folk singer whose style encompasses Americana.
"I don't want to be put in a category. I play the guitar and sing," she says, and the local music scene doesn't argue with that.
Another thing the local community doesn't easily do, though, is value performance art like Wilson's. "People don't want to pay to come see you and they don't want to spend money on merchandise or a CD," she says. "It's a community that's learning how to really value music and art in general. That's a discussion we have every year now with ArtPrize so I think a lot of that is cultural. And that's where learning how to navigate the music world is an important skill and one I've had to learn over the years."
Wilson says the local music community can be very supportive, and that Grand Rapids does a few things especially well from a musical perspective. "I think things like WYCE are incredible and I know our community is unique in having it," she says.
And, on the music culture in West Michigan, she says, "I actually think a lot of musicians here are pretty decent people, which I think can be not the case. People are generally supportive and great to each other and speak well of each other. I know in other places it can be cutthroat and nasty, and I don't feel like it is here."
Does she occasionally pinch herself when she realizes that years of hustle and practice allow her to make a living teaching and performing music? Well, yes.
"I opened for Ziggy Marley this summer. I've opened for Pat Benetar. Billy Bob Thorton and I hung out for a while," she says with a smile. "I just feel like I have sort of a crazy life where I get these opportunities to do this crazy stuff."
And though clearly these moments don't happen every day, it's the magic of live performance, of sharing her music with the world, that makes all the juggling and behind-the-scenes work worthwhile. "That's what we're chasing – that's the dragon, the moment up on stage when you feel really lucky and awesome, when I feel like I'm jamming and I feel grateful to be there."
It seems safe to say that Grand Rapids is grateful to have her here, too.
Stephanie Doublestein is the managing editor of Rapid Growth Media.
Photography by Adam Bird